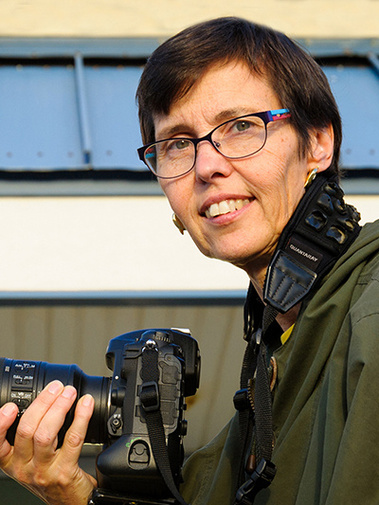 Eve Turek
How many ways are there to give honor, to give thanks, to say I love you? One way, the photographer's way, is to be deliberately, fully present.
Since receiving her first Polaroid Swinger camera more than 50 years ago, to learning black and white film processing and printing in high school, to working today in the digital darkroom, Eve Turek has loved photographing wildlife and the landscape. What began as an interest and grew to a passionate hobby has become both a livelihood and way of life that keeps her grounded and connected to the natural world.
With a B.S. in Environmental Studies and an M.A. in Environmental Education, Eve combines a naturalist's understanding with an intuitive sense of synchronicity in creating her wildlife and wild-lands photography. Her intimate portrayals of birds and wildlife reveal her deep connection to all living beings, while her landscapes and seascapes preserve moments of time and honor eons-long processes. Together with her husband Pete, she owns two galleries on the Outer Banks of North Carolina: SeaDragon and Yellowhouse, both in Duck.
While most photographers organize their portfolios around places or subjects, Eve prefers to catalog her work by the emotions she feels when pressing the shutter, emotions then experienced by later viewers of the images. Serenity, connection, elation–emotions such as these are the foundation of her photographic practice which begins and ends, as does every photographic encounter, with gratitude. That is why Eve habitually asks permission to make an animal or bird's photograph and says thank you after clicking the shutter.
"Beneath all the necessary technical considerations involved in making an image, at that image's heart is the feeling of being present to the story offered, whether through weather or light or wildlife or the land itself. I want to be true to the images meant for me, to the stories that are mine to tell. Mindful nature photography implies a passionate receptivity to gifts of Presence that reveal themselves when we notice what we notice, honor what catches our eye and our breath, and seek to distill the movies of our lives into Moments that deserve to be remembered. This moment, this encounter, this light: Now. That is living a mindful life. In our individual ways, we pause. If we are photographers, we adjust a lens, we press a shutter. We say, Yes. This. Now."
Eve has published extensively since the early 1980's as both a writer and photographer; a selection of her black and white prints is licensed through Bruce Teleky, Inc./American Vision Gallery in New York. Her landscape and wildlife photographs are in corporate and private collections throughout the United States. Her work has been exhibited in the Delaplaine Visual Arts Education Center in Frederick, Maryland as well as in regional juried or invitational shows. She is a member of PPA (Professional Photographers of America), CNPA (Carolinas Nature Photographers Association), NANPA (North American Nature Photographers Association), and NPS (Nikon Professional Services). Her imagery is available for licensing and purchase. She is available for keynote presentations and workshops.
MAJOR PHOTOGRAPHIC AWARDS:
2014 International Gold Medal, World Photographic Cup
2016 Silver Award, Epson International Pano Awards; 2016-2018, multiple bronze awards
2017, Bronze Medalist, Professional Photographers of America
2017 PPA Showcase Award
2018 PPA Showcase Award
2018 Semi-Finalist, North American Nature Photographers Association
Contact Info
www.evetureknaturephotography.com
Workshops by Eve Turek
None scheduled - stay tuned.