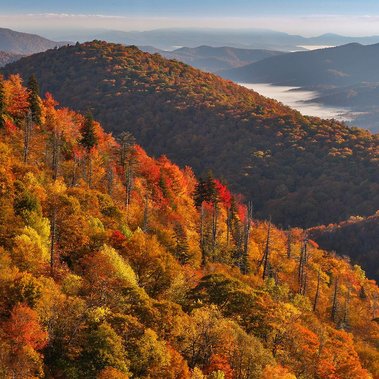 North Carolina Mountains and Waterfalls in Autumn
Nestled in the southern Blue Ridge Mountains of North Carolina, Mountain Lens offers an ideal location from which to explore the natural beauty of the forests and multiple waterfalls in the region. Autumn is a famously beautiful time to visit and photograph the fall foliage display.
In this hands-on workshop, Mary Louise will share her tips for how to best capture the color of the season from photo equipment to techniques like high dynamic range (HDR) photography, long exposure photography for capturing moving water & glassy reflections, and intentional camera movement techniques for a creative approach to dealing with contrasty lighting.
Then in the digital darkroom Mary Louise will share her step-by-step approach for editing images including using Adobe's Lightroom and Photomatix programs to process HDR images, making this technique feasible, even for those who don't have in-camera HDR capture functionality.
You are sure to come away with some new approaches for creating dynamic images thanks to the workshop's combination of lectures, demonstrations, and multiple hands-on photography shooting sessions in the field.
Participants will work on editing their own images with input, guidance and feedback from Mary Louise. The workshop culminates with each participant printing one of their images to take home for display.
October 29 – November 1, 2020
Fee: $695 ($645 Early Bird by August 29)
Min of 5 | Max of 6 Attendees
Instructor: Mary Louise Ravese
Additional Information
Special discount available for NANPA members, CNPA members, and select camera clubs (contact instructor for discount promo code)
If registering before August 29, 2020, you have the option of paying just a $350 deposit at the time of registration. If you choose this option, we will send you an invoice for the remaining balance. To retain your spot in the workshop, the workshop balance is to be paid no later than September 29th.