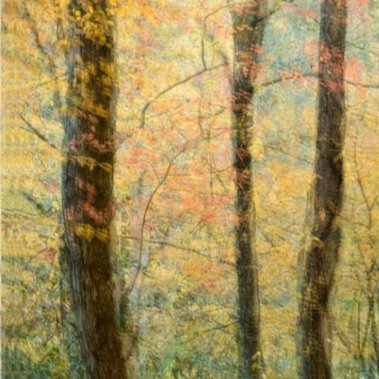 Autumn in Abstract: Photographing Vivid Colors & Light in Landscape
The beauty of Autumn in the mountains can be amazing, especially when captured as Abstract photographs. Join us to explore a range of techniques that will raise your creativity to the next level! Learn to create images that range from painterly to surreal, images that capture the imagination.
In this workshop, we'll explore the natural areas surrounding the Asheville, NC area. As we do, we'll play with Autumn's brilliant yellows, oranges, and reds; the light at all times of the day, in all directions (front, back, side, etc.); and in whatever weather conditions are present to capture the many faces of the season. We'll also experiment with abstract techniques in an urban setting, exploring the streets and shops.
As part of the process, we'll grow in our appreciation of color and in our understanding of light as the primary tools supporting our visual stories. We'll explore how color, light, and other features such as tree trunks, rocks, or clouds mix to create images that Wow! by using basic and advanced composition principles and tools.
We'll explore specific abstract techniques such as seeing in abstract, Intentional Camera Movement, lens effects, multiple exposures, and Compositing. And we'll discuss equipment, lenses, and filters (especially neutral density filters) that support abstract techniques.
This workshop is guaranteed to move your creativity to a new level. And you'll find that it's a joy to spend a day or days "playing in the light" using abstract techniques, as you wish.
October 15 – 17, 2020
Workshop Fee: $459

Min of 4 | Max of 8 Attendees
Instructor: Susanna Euston
Additional Information
10% discount for former students of ONE workshop or class, high school or college students and CNPA-Asheville, NANPA-WNC and CCOH members. 15% Discount is offered for former students of TWO workshops or classes.